It's the Great Pumpkin, Charlie Brown
Saturday night I had the opportunity to make my first ever appearance at the annual Pumpkin Blow (sorry if I just re-named the event).
There were costumes, yummy snacks, fireworks, and most of all an on-demand pumpkin explosion.
In honor of my dear friend Jessica, I mean Sydney Bristow, I present a photo-blog with captions.
Enjoy.
Jessica is my official make-up artist.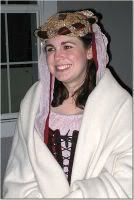 Erica (a medieval maiden – not a wench as Scuba kept trying to call her) and Scuba (I thought he was an IRS agent but supposedly he is The Transporter)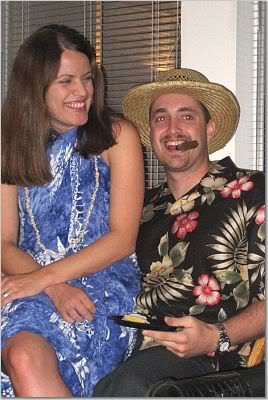 Jeff and his wife Jessica (they just had a sweet baby).
Ha ha funny story about Jeff: We were good friends in high school (he's a few years younger than me) and I asked him to be my date for Sadie Hawkins (as friends). When I called him to tell him we were on our way to pick him up, he asked if Scuba could come along to the dance with us. I remember being both amused and shocked and a bit offended. I guess at that time Jeff didn't understand that a dance date meant you didn't bring your best friend along. We still laugh about this. Gosh that story makes me look bad, maybe that explains why I don't get asked out. Sad and yet really funny.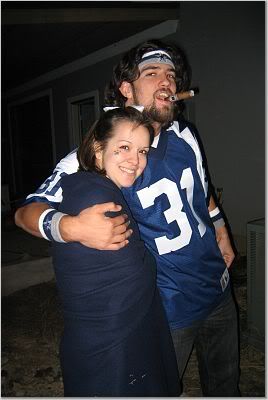 Nicolle and Rick (doesn't Rick look like the biggest playa with his little cheerleader girlfriend – ahahahahaha)
Jessica and Roger (I love that Roger is totally trying to out-ghetto booty Jessica in this picture)
The entire party gang. Check out the cutie patootie baby in the pooh bear costume.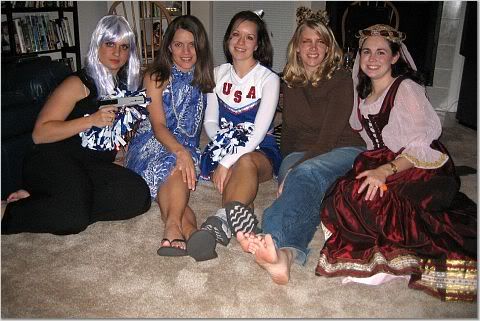 The ladies; we're a good lookin bunch aren't we? Sorry guys all the other girls are taken. Too bad for you.
We might look sweet but we're really dangerous.
Don't mess with these ladies, they are trained killers.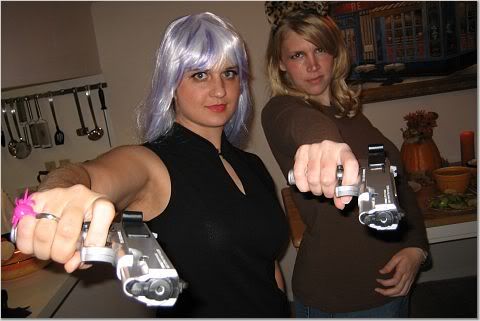 I love this photo, it looks very Quentin Tarrantino-ish. I don't know if other people understand or appreciate how much fun Jessica and I have together and how silly we can be with each other.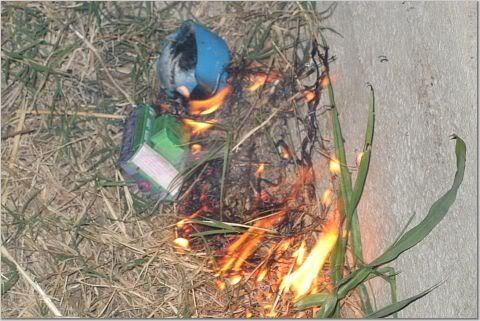 The guys let us ladies play with a few of the fireworks and Jessica somehow managed to set the grass on fire.
Speaking of fire, we attempted to set a pumpkin on fire but the gasoline just burned right off. But it made for a really artistic photo.
And then the best part of the evening . . . . . . . . . . . . . .
Sorry, guys Castpost is being difficult. As soon as I get the videos loaded I'll post them. Check back because these vids are so worth it.