OH NO she has a camera
If I was a doctor and I was able to prescribe relief for a cruddy day I would always prescribe dinner and chatting with a group of crazy gals (not crazy as a technical and psychiatrical term, but crazy as in fun, wild, hilarious, and just plain good people) , and not just any gals but my gals. Just the anticipation of being with these ladies can turn your whole mood around. And last night it did.
We won't go into the cruddy day or the downcast mood because we have fun gals to focus on.
I will admit that I committed a party foul. We had all planned on meeting between 6:30 and 7:00 and I choose to sit in my car talking on the phone for a few minutes past 6:30 (just a few minutes mind you I was still in the 30 minute window). Little did I know but my friends were impatiently waiting for my presence (because the party cannot start without me there is seems). So as I was wrapping up my phone call, I spied a crazy paparazzo (the singular of this word – I looked it up to be sure) outside my window shooting pictures like a mad woman. After closer inspection I realized it was indeed Jessica (not a paparazzi but a little bit crazy – in the fun, wild, hilarious type way).
Ok can we take a moment here to point out that I have FOUR different parenthetical insertions in that paragraph alone? I wonder if this is the way I talk and if it is, should I do hand motions to signify that I am making a parenthetical (I just like using that word, it sounds smart) insertion. Would that hand motion be my two hands cupped and held up so they looked like parenthesis?
In fact now that I am camera-equipped I will give you a photo of what I mean.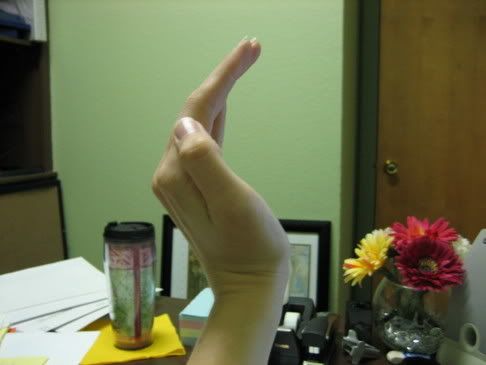 Ok back to last night. So we got together to celebrate the births of all those who came into this world in October, or just me and Nicolle. Cards were exchanged. It was then that Erica told Jes and me what she had written on Nicolle's card. Something alluding to her recent trip to New York and meeting some actor from The Sopranos and how this evening might not be as exciting and crazy but that she did have Jes and Me to make it fun and wild. I take that as a compliment people. Jessica and I are so fun we should rent ourselves out to dinners and parties. For only a nominal fee you too can experience the hilarity and random conversations that Jes and I bring to any gathering of people.
Ok these were our waiters. It seems that the guy was in training (or that was just a ruse and the managers at Carabba's knew that we needed not one but two waiters to handle a group like us).
Erica, Nicolle, and Jessica knew their names all night, I missed out on the introductions because of my party foul so I referred to them as waiter girl and waiter guy. This was not meant to be rude but we didn't connect and trade life stories like the other gals did while they were waiting for me to walk the 10 feet from my car to the restaurant.
Conversation was good, we had some catching up to do. Nicolle shared with us her exploits in New York and Las Vegas for work. As I mentioned earlier she met some actor guy from The Sopranos and she also went to Ashley Simpson's 21st birthday party in Vegas. Of course after this, Jessica and I had to share some of our world travels for our work because you know that I do a lot of traveling for my school (Europe, East Asia, and whatnot) and Jessica has to travel all over the world to check out the gravel companies her corporation is acquiring (who knew paralegaling could be so glamorous?).
And now we come to my favorite part of the evening. I have been known to cause a bit of mischief during the dinner prayer. Now I don't want to appear sacrilegious here, I take prayer VERY seriously and God and I are good on this. But I have been coined the "prayer bandit" and I may strike at any time by adding things to your plate from mine during prayer. I like to think of it more as an immediate blessing of more food upon your plate, an act of service on my part. Well Jessican (I mistyped that but liked it so much I wanted to keep it. Who can? Jessican.) somehow gets the distinct pleasure of sitting next to me on many such occasions and have been the receiver of some delicious food from my plate unto hers. This night though she did not want the blessings from above so she carefully removed all things that might tempt me to strike while she prayed. In fact Jessica was in such fear of what I might do that she could not stop laughing so Erica stepped up to pray. I have found that sometimes the mere threat of something has a greater affect than the actual carrying out of such threat.
So here is a view of the table from my seat. No weapons of prayer banditness in sight.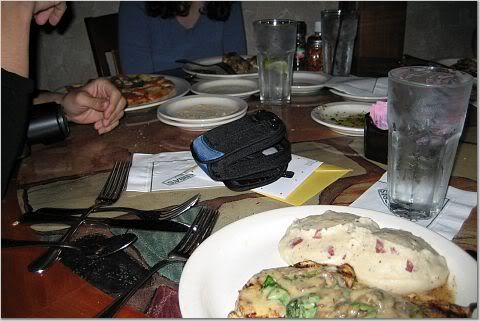 Ok Jessica told you we talked about adoption and baby making. And I announced to the entire table that of all three of us I was the only one assured of not being pregnant anytime soon (they are all married). Nicolle so wisely informed me that I was also the only one who could have a miraculous virgin conception. I'm pretty sure that won't happen though.
I will mention here that Jessica is one of my favorite conversationalists, if only because she can jump topics like a star athlete and move from something normal to something completely random. She is also very easily manipulated to go down crazy conversation road by just a hint of a subject. I will admit that I take distinct pleasure in manipulating her down this road, if only for the general entertainment of all.
So the night wasn't too crazy, just some good girl time and catching up. We did get free dessert, hmmmm dessert, and yippee free.
Here is Erica – I LOVE HER HAIR
Here is Nicolle – HAPPY BIRTHDAY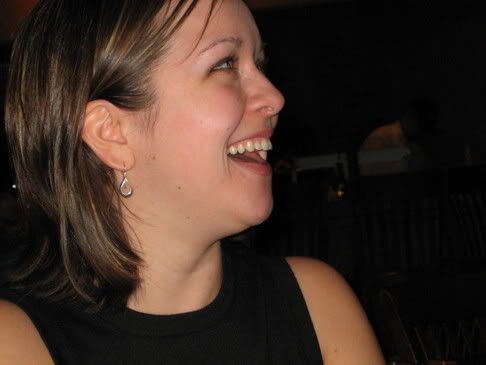 Here is Jessica – she had her eyes closed in EVERY shot I took of her
Then we gathered together for a group shot. Aren't we cuties?
Oh and yes I do now have a camera so I am officially dangerous. And as I tried to tell Jessica last night it has five mega-PICKLES. Now I realize many of you have cameras with mega-PiXels but my camera is special and it uses piCKLes.