Into the Mirror by Steve Sporre
"My story. My pain. My redemption. My salvation."
No other synopsis could so eloquently and truthfully describe what is contained in Into the Mirror. There are stories in our lives that stick with us, tales or epics that draw us in. Some of them are fairy tales, some are historical accounts of days long ago, some are the fruits of great literary minds, and then there are those that are so real they could be the story of our neighbors, our family, our friends, ourselves.
Some people write for wealth, others for stature, and then some write because they have a story that must be told.
Many of you know
Steve,
many of you may have heard me speak of his book, and some of you may have glanced at it in passing. As of yesterday, he wrote the final chapter. Read it because it is well written, read it because I'm telling you to, read it because you are curious, read it for any reason at all. But when you are done, when you have finished, I hope that you leave it in some way changed. Great stories do that, you approach them, you experience them, and you leave them altered. It is only fitting that this is the story of the transformation of a man and that each who read it might leave transformed themselves.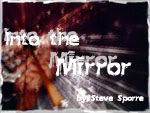 Please note that the book is in reverse order. You will need to use the chapter titles on the sidebar to navigate your way to the beginning. Click on the earliest chapter on each page until you get to chapter one and then use the back button to manuever to each chapter thereafter.