It really doesn't take that much (a dual blog with Just Say Jes)
Last night I ventured out into the night with one task at hand: Cobbler.
Jes
makes great cobbler and I needed her expertise to help me enhance my "suzy baker" skills. She imparted her wisdom to me and cobblering commenced.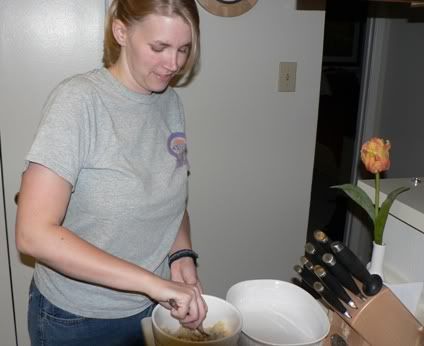 Well what are two crazy girls to do when their waiting on the cobbler to bake?
Flipping.
Now if you don't visit
Steve's blog
then you must go there first to witness the true talent. Go, now, scroll down to the videos, watch, and hurry back.
Yep, we are so easily swayed and pretty much have no self control when it comes to trying a new thing. So Jessica and I gathered the proper flipping materials and set forth on our conquest to become flipping masters. Now if you know either Jes or me in person (or you feel like you've come to know us quite well through our blogs) then you know we are, well, "special". I think that the following videos will show that all too well.
Laugh, laugh some more, and then laugh again. Yes we know we are crazy, yes we know we are two of a kind, and yes we had way too much fun doing this last night.
I apologize in advance that it will take a while for the videos to load and that you may not find the same humor that Jes and I did. There are some funny moments, or you can just laugh that we spent at least an hour attempting to flip things into our mouth with not a whole lot of success. Much like a train wreck, you just have to keep watching in disbelief that we are, in fact, this "special."
ISSUES - Trying to fix the videos - your patience is appreciated.
Also go check out
Jes's site
for her own special videos.