Change of plans
Ok so I was all ready to post about my solo at the lake but then I realized that this weekend was a very important weekend. Yes, my friends it is HOMECOMING weekend.
And it just so happens that this year marks my tenth year out of high school. TEN YEARS people. That is a stinkin long time. Gosh I feel old.
But a trip down memory lane is not the point of this post.
Instead we are here to discuss this thing called Homecoming. Now I'm sure if your school had a football team they had a homecoming game. Well homecoming in our town is BIG STUFF (even though out football team sucked at the time – but hey my old high school has since won three state championships and played a game televised on ESPN – yep we take our football seriously down here folks). I'm getting off the subject again.
Homecoming is so much more than the game (especially when you know you are going to lose). It is a week full of festivities including Spirit Week, Pep Rallies, a Bonfire, the game, and then the dance.
It just so happens my senior year that I was the mascot. In fact every couple of months or so when I go into the local grocery store one of the checkers or baggers will remember me as the mascot (hmmm, not so sure that is the thing I most want to be remembered for). The most important part of being the Raider mascot was that I had a whip. Yep, a whip. See our administration thought it would be a good idea for the Raider to be like Indiana Jones instead of a cowboy or pirate like other raider mascots (bad idea, very bad idea). So I got to wear an entirely khaki outfit with the leather bomber jacket, brown fedora, and carry a whip. And yes boys, I do know how to use it and I still have it. And no, you will not ever see pictures of me in the mascot outfit.
Homecoming is an EVENT to rival all events. It is bigger than prom or graduation I think just because the entire school is involved. So I'm thinking I might venture out to my high schools homecoming game tonight and visit one of my good friends who is the drill team instructor and check out the game.
And as I venture back in time to the high school days I will be greeted with one of the most outrageous homecoming traditions here in Texas.
The MUMS.
There really is no way to describe what a mum is in words so I found a couple of pictures for you to peruse.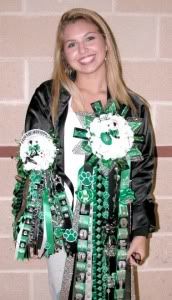 Now for some reason in my youth I thought that mums were the greatest thing in the world.
I was WRONG.
As I got older and wiser I have come to the understanding that these things are the tackiest, ugliest, biggest waste of $50-$100 ever invented.
The sad thing is that there was an unspoken competition to see who could have the biggest, gaudiest, most expensive mum in the school.
It didn't just end with flowers and a few ribbons people. It was four flowers; all kinds of ribbons (in coordinating school colors of course); you had to add the teddy bears (one for both you and your date); the football garland; the plastic footballs (or basketballs or soccer balls or whatever sport you or your date played); then there was the ribbons with your name and their name and the name of the school and the name of whatever else you wanted, and then the cowbells (yes cowbells in various sizes, tiny to regular size); you also added glitter ribbons, and other crap to make your mum large and expensive looking. I'll never forget the site of girls walking down the hall (because you had to wear it to school on the day of the game as well at the game and the dance) with fifteen safety pins trying to hold this 15 pound mum onto their shirt as gaping holes appear from the duress of the weight. I even knew a guy who bought his date a mum so big she had to wear it as a backpack. Then there was the sound of these girls coming down the hall with the garland and the cowbells. It was HILAROUS.
Ahhh memories. So as I venture back to the old stomping grounds of high school I will be visually assaulted with the mums once again.
AND I WILL LAUGH.