Bye, Bye, Bye . . . .
I got some flack a while back for admitting that I was a super-fan of NKOTB (New Kids on the Block for the unenlightened) and that I knew all the dance moves to Hangin Tough. I was in elementary school and junior high, and they were HUGE and every girl in my age group must admit they listened to the tapes, they went to their concerts, and they probably owned a poster, or pillow, or t-shirt, or some other type of paraphernalia.
Now this post is not to defend my FORMER love of all things NKOTB. Instead it is to share with you my experience with yet another boy band or two. When I worked at Kanakuk Kamps we were always looking for skits, programs, and other fun things to entertain the kids. Somehow the leadership team decided that one of our party nights needed some "special entertainment" so the girls and guys decided to do a lip-synch and dance to two popular boy band tunes.
And that is how The Backwoods Girls and NSync (the boys weren't all that creative) began. It was HILARIOUS, especially since the girls took this challenge seriously and spent hours choreographing our routine and the boys took about 30 minutes and had to bring in some of the girl cooks to help with the moves.
We were a hit. Each week we would perform our routine for the kids at dinner. It was so much fun.
Now this is the time to tell you that many of the staff at kamp only got to see the "business" side of me. They knew me as the HOG who made sure everything ran smoothly, everything happened when it was supposed to, and that all counselors were doing everything they were supposed to do. They didn't know that I had a "crazy" side.
The Backwoods Girls soon changed all of that. We performed to "Larger than Life."
The guys instead went with the crowd pleaser of "Bye, Bye, Bye" and let me tell you that the girls went wild. You would think that the real NSync guys were there by the way the girls screamed and went crazy. HILARIOUS.
Well twelve weeks later and we were famous, at least to the kampers. Our last "performance" we ended up doing an encore of "Bye, Bye, Bye" with the whole group and just went wild. It was so much fun. Good Times, GTs.
So, just in case you thought I was boring then well, behold The Backwoods Girls (and I threw in the guys for kicks).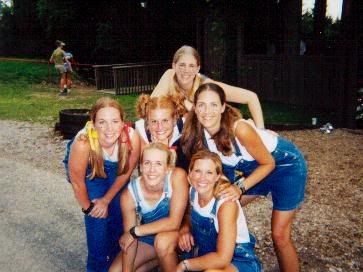 Aren't we cute?
First performance – those girls can dance

Yep I had a solo and I was GOOD (notice the guys laughing in the background?)
Ha, ha, their outfits got more random as the summer went on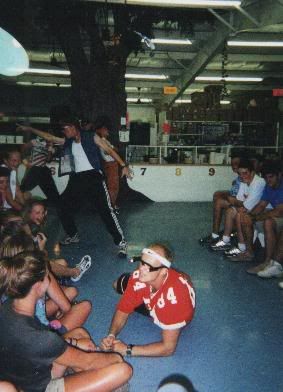 No wonder the gals went crazy. In the foreground in red is my friend Luke, behind him in the jean vest (totally 80's) is Brad. They were HITS in this whole production, which of course only added to the number of girl kamper with mom shots they had to take on Parents' Night.